Dr. Jian Wang at Peking University is awarded 2015 Sir Martin Wood China Prize
Dr. Jian Wang at Peking University is awarded 2015 Sir Martin Wood China Prize for Research of Physical Science in recognition of outstanding achievements on the study of interface-enhanced superconductivity at 2D limit and potential to topological superconductivity: 1. The first direct evidence for high temperature superconductivity in one unit cell thick (1-UC) FeSe films on insulating STO substrates with the onset Tc and critical current density much higher than those for bulk FeSe. This work demonstrates the 1-UC FeSe/STO is the thinnest high Tc superconductor and may pave the way to enhancing and tailoring superconductivity by interface engineering. 2. The discovery that the two-atomic-layer Ga film with graphene-like structure on wide band-gap semiconductor GaN is superconducting with Tc up to 5.4 K. This work offers a new platform to study two-dimensional (2D) superconductivity in metal-semiconductor heterostructures. 3. The finding of superconductivity in crystalline 3D Dirac semimetal Cd3As2 induced by hard point contact with some signatures showing the possibility of topological superconductivity.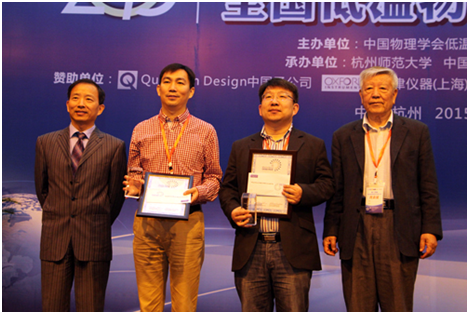 Dr. Jian Wang is a young experimentalist in condensed matter physics. His current research interests are low dimensional superconductors and topological materials. He got his Ph.D under the supervising of Prof. Qi-Kun Xue at Institute of Physics, Chinese Academy of Sciences. Then he spent 5 years in Prof. Moses Chan's group at the Pennsylvania State University as a Postdoc Researcher and Research Associate. In 2011, he joined International Center for Quantum Materials, School of Physics, Peking University as an Associate Professor. In 2012, he was selected as the Leader for National Young Scientists Projects and supported by China National Fund for Excellent Young Scientists.